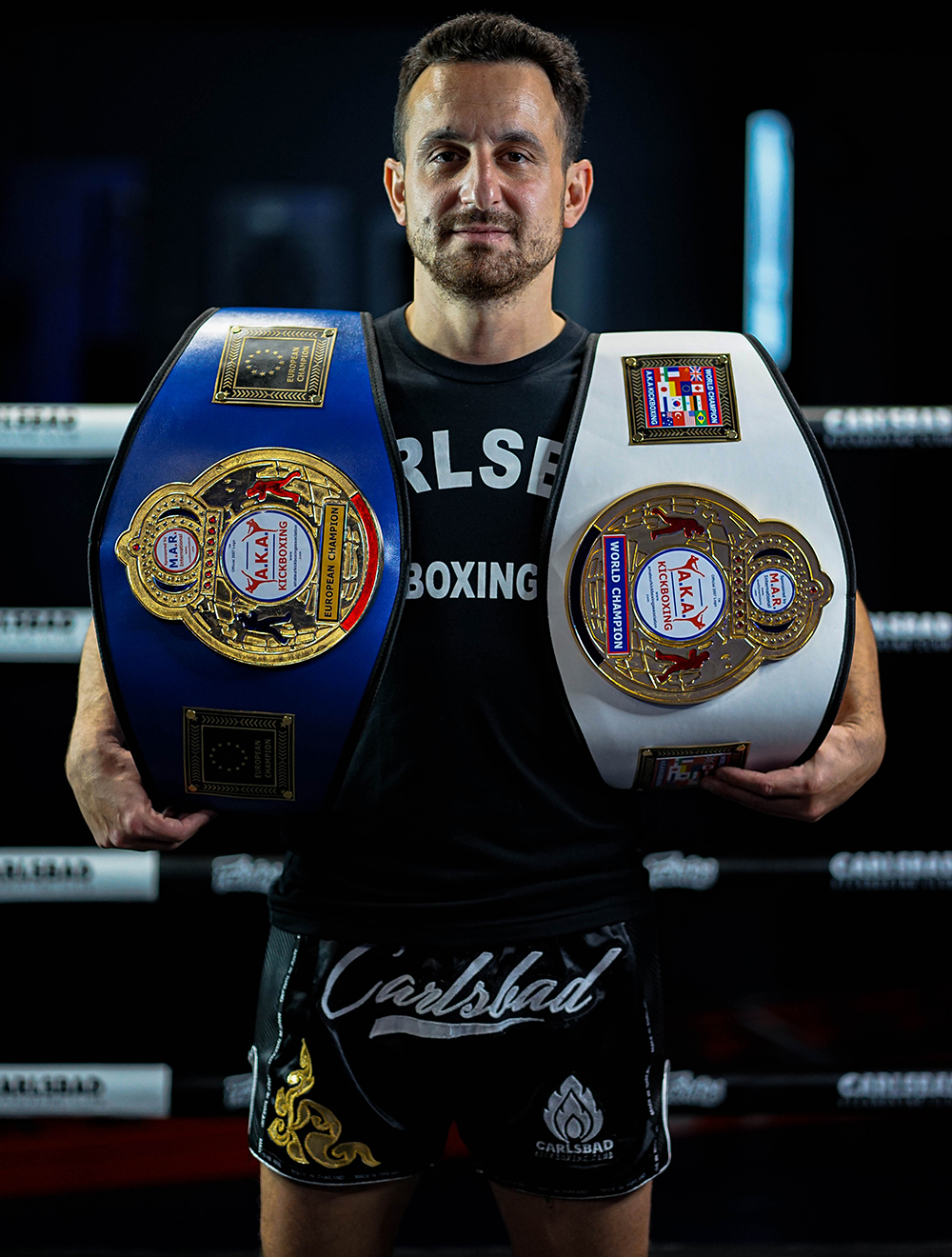 By Natalie Kaufman
Those who enter Carlsbad Kickboxing Club know that it is inevitable they will receive a friendly hello from Hakan Yildiz when walking past the ring. What they might not know is his background and that fact that we at CKC get the pleasure of being among fighting royalty.
Hakan grew up in Mersin, Turkey, a city on the south coast of Turkey along the Mediterranean Sea and started boxing and practicing muay thai at the age of six. He also practiced gymnastics for about five years.
Always a hyperactive kid, Hakan's father wanted him to channel that energy into a sport. "My uncle was already training and teaching boxing and muay thai at a gym in Mersin, so he became my coach. From that point on, I never looked back," he says. "Martial arts became my passion."
His first fight was at the age of 10 and he went on to became a Turkey National Champion. He also served as the Muay Thai ambassador for Ankara, the capital of Turkey. After that, he stepped into what he considers one of the most important roles in his career—the Technical Coordinator of the Turkey National youth Muay Thai team.
But Hakan isn't finished. Although he chose to retire from fighting in 2013 and focus his time on becoming a grand master along with furthering his involvement and career with the Turkey National Muay Thai team, his ultimate goal is to come back from retirement and fight for a belt again in USA.
We, at CKC, think he can do it. He has proven that he has the motivation and dedication to do just that. For example, at the 2005 Adult World Championship in Bangkok, Thailand, when he was just 17 years old, he was in the finals was winning. In the final 15 seconds of the fight, he got a kick to his neck and the referee stopped the fight and the opponent took the gold medal.
That fight was the turning point for Hakan. "From that point forward, I channeled that motivation and energy to be the best." After that, he became a two-time World Champion and the first IFMA World Champion in the country of Turkey and was honored by the Republic of Turkey with the National Sports Excellence Award.
His inspiration at CKC is infectious and that is due to his passion for the sport. "I started training other fighters in 2012 and it was inspiring to be able to share my knowledge and motivate others to be successful," he says. "In addition to training fighters around Turkey, I was the leader in establishing a federation for individuals in difficult conditions, named 'Guckobir' in the capital of Turkey. I am the general secretary of this federation that is aimed to help children and youth in need." That particular program has helped many children focus their energy into sports and has created Turkey, European and world Muay Thai champions.
As for how we are so lucky to have him at Carlsbad Kickboxing Club? He says the club is his second home and his goal is to make it the best martial art gym in all of the greater San Diego area.
"I love people's energy, humor and motivation for Muay Thai here at CKC," he says. "The energy is always high, and I feel that my career and experience is well respected by all members and staff. It is so rewarding to be able to share my knowledge and help grow Muay Thai in the CKC community."